Electrical Code Corrections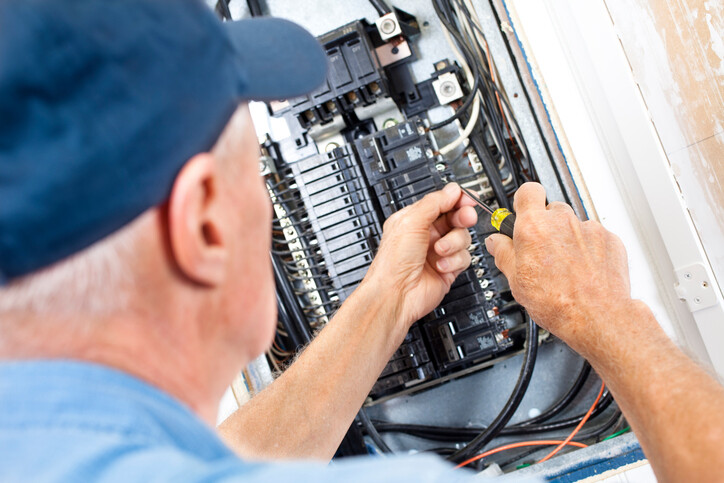 Have you had your electrical system inspected and found to have violations? Living and working in an environment with electrical code violations poses safety risks for all involved. The reasons we have these codes is to make sure circuits are not overloaded and wiring is safe to prevent electrical fires. Meehan Electrical Services has served as a local electrical code expert for over 63 years. If you've got an electrical "to do" list that you're not sure what to do with, simply call (706) 717-4947.
---
Call for a Quote!
---
Types of Electrical Corrections Frequently Completed by Meehan Electrical Services
There are multiple code violations frequently found in homes across the state. The violations listed below must be corrected quickly for both safety and legal reasons. Our top priority is to keep you and your family safe from the dangers of electrical violations.
Damaged and Outdated Wires: Cracked or loose wiring can cause damage to your outlets and appliances and can cause electrical shocks or fires.
Weak Electrical Connections: Cause power to flicker and then overload and result in damage to appliances and lighting. We'll tighten all connections.
Incorrect Outlet Usage: GFCI outlets must be used where water is present, including kitchens, bathrooms and pool areas. Using incorrect outlets when water is present is extremely dangerous.
Faulty Panels: Breaker panels are the home base for your home's electrical service. If it is not strong enough to handle all of your electrical needs, or if it is not wired properly, all other electrical connections in your home are affected.
Incorrect or Inadequate Installations: If you have purchased a home from someone who tried to do their own repairs, rather than consulting professionals, outlets may be incorrectly wired, or installed at the wrong height, or there may not be enough outlets for a given space. Call (706) 717-4947 to make corrections on outlet installations.
Why Call Meehan Electrical Services to Correct Your Electrical Code Violations
The electricians at Meehan Electrical Services are experts in correcting dangerous violations quickly and safely. Call (706) 717-4947 with your electrical inspection in hand and we'll check each one off efficiently and at fair pricing. Our electrical technicians are fully licensed and certified to complete all necessary electrical repairs. What's more, our whole team frequently undergoes additional training sessions to expand our education and provide the most comprehensive service available. Call Meehan Electrical Services today for a free quote.
---
Call for Fast FREE Quote
---