Mobile Home Electric Hook Up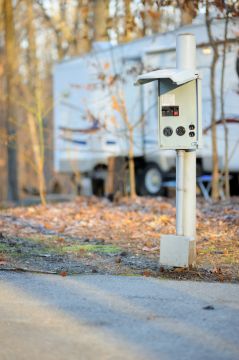 Need to get your mobile home's electric hooked up and don't know who to call? Many electricians aren't interested in working with mobile homes because the jobs aren't big, but Meehan Electrical Services is happy to help. Although it isn't rocket science, installing electric to your mobile home can be tricky and it's something best left to the professionals, especially if you are living in a park. In addition, having electrical work done requires an electrician's license. Meehan Electrical Services has been helping area mobile homes get up and running since 1960. Call (706) 717-4947 today to schedule a convenient time for us to come out.
---
Call for a Quote!
---
How Much Does it Cost to Hook Up Power to a Mobile Home?
Generally, prices are reasonable, but they do depend on a couple of factors, such as the distance from your mobile home to the power source and the amount of power you require. You may also have to consider the costs of poles and transmission lines if they are not already set up. You'll have to contact your utility provider for the latter. Meehan Electrical Services takes pride in providing quality electrician services that local resident can afford. Call (706) 717-4947 to learn more.
Call the Mobile Home Electrical Experts
Meehan Electrical Services is highly-skilled in the special requirements of mobile homes for electrical wiring as defined by the U.S. Department of Housing and Urban Development (HUD). When you call (706) 717-4947 to hook up your mobile home's electric, you can rest assured that you are getting a licensed pro to handle the work. There are many local electricians out there, but not all understand the proper way to run electric lines to manufactured homes. When you call for a quote, make sure you ask if your electrician is skilled in this area, or, call Meehan Electrical Services and be sure!
---
Call for Fast FREE Quote
---