Alarm & Security Repair in Athens, GA
Meehan Electrical Services is a leader in the security industry, specializing in alarm and security system service for both Athens residential and Athens commercial clients.
If your Athens alarm or Athens security system is not functioning, call (706) 717-4947 for immediate service. Our crew is available 24/7 to handle emergency situations for all of our Athens residential and Athens commercial clients.
Get your security system back online.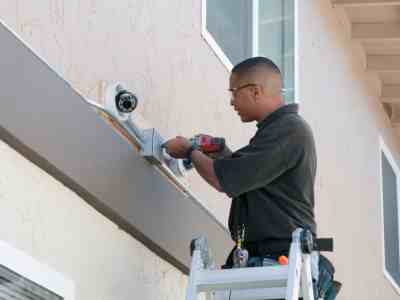 A security system is only doing its job if it is fully functioning. Meehan Electrical Services provides quick response times for Athens security system failures.
Our highly trained staff can locate, diagnose, and repair issues for all types of Athens alarm systems.
We have expertise in all fire alarms and smoke detectors, security lighting and entry point apparatus, surveillance equipment, intruder detection systems, and more.
Trust your fire alarms, smoke alarms, and security systems to the security professionals at Meehan Electrical Services.
We've been protecting Athens homes and businesses for 59 years.
We look forward to meeting all of your security system needs.
Is your Athens property protected?
A damaged security system means your family, your Athens home, or your Athens office is not being protected. Alarm systems and security systems can be compromised by vandalism, weather damage, aging parts, and faulty wiring. Security systems also require routine maintenance to function properly.
Our certified electricians have expertise in all security systems on the market. We continually train our employees in all the latest advancements, so we can provide you with the best service in Athens, Georgia.
We've been protecting homes and businesses in Athens for 59 years. Call (706) 717-4947 to find out how we can protect you.
Peace of mind guaranteed.
Minimize your potential for a security system failure with one of our comprehensive maintenance contracts. Call (706) 717-4947 to discuss your Athens residential or Athens commercial security needs.
Meehan Electrical Services provides annual maintenance contracts for all types of Athens residential and Athens commercial security systems, including: alarm systems, fire alarms, security lighting, entry point security, surveillance equipment, and more.
Meehan Electrical Services will make sure your Athens security system keeps you secure.
WHAT CUSTOMERS ARE SAYING:
5★★★★★ - "Called Meehan when we had breaker problems and Jeff walked me through the steps to solve WITHOUT having to make a service call! Great folks and most helpful and would highly recommend."
JB in Athens, GA
2018-06-01
---
5★★★★★ - "My favorite thing about your company is that you do what you say you will do, and you do it well. Phone calls get answered. Problems get fixed. Work is done on time. I always know my home is safe when Lamar is there."
Mark in Athens, GA
2013-04-03
---
5★★★★★ - "This afternoon I called Meehan Electrical Services to get an estimate for a service call to my home. Jeff Meehan answered the phone and I described the problem, two electrical outlets that had suddenly stopped working. Jeff listened to me carefully, asked several questions, and then he was able to troubleshoot my problem over the phone. I don't know anything about electrical matters and I was nervous about even approaching the breaker box, but Jeff was patient and he took the time to explain everything to me as he went. I followed his suggestions, and the outlets are working fine now. I will definitely use Meehan Electrical Services for any electrical matters in the future. I am pleased and so grateful to God for the blessing I received today through Jeff Meehan."
Christine Packwood in Winterville, GA
2018-10-16
---
5★★★★★ - "Jeff was more interested in helping me over the phone than earning a trip charge for one of his technicians...unbelievably selfless. Thank you! You've earned a future customer."
James in Watkinsville, GA
---
5 ★★★★★ - "We had an electrical outage in our home and after calling 5 electricians, Jeff called us back promptly and advised us that it sounded like an issue with our service coming in from Georgia Power and advised that we contact them first. We did and that was indeed the problem and the problem was solved at no cost to us. We are grateful for Jeff's prompt response and accurate advice."
Mike & Susan Gravely in Watkinsville, GA
---
5★★★★★ - "I can't thank Meehan Electrical enough for their help. I made the call & got approx. time they would come & they came exactly at that time for the service call. Fixed original issues and went on to handle several others. They proved to me that no job is too small. My husband & I will definitely do business with them in the future! Thanks guys so much!"
Judy Talton
2013-04-11
---
Call for FREE Alarm & Security Repair Quote
---
Alarm & Security Repair available in the following Athens, GA zip codes:
30601
30602
30603
30604
30605
30606
30607
30608
30609
30612